what is it? :: how it works :: why cyberbully? :: prevention :: take action :: what's the law? :: stop cyberbullying toolkit :: 2013 Summit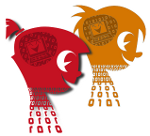 Join us for the 2014 StopCyberBullying Youth Summit in New Brunswick on March 22nd, 2014 starting at 8:00am at NBCC Woodstock!
Home of "Don't Stand By, Stand Up," StopCyberbullying was the first cyberbullying prevention program in North America. Its specially-trained young volunteers design and deliver community programs to help their peers address cyberbullying. StopCyberbullying's founder, Parry Aftab, calls them her "cyberarmy" empowered to tackle this important issue. These teens and tweens staff their own text messaging support line for other young people, build apps to promote kindness, and provide student peer support in their schools.
Click here to See Pictures and Videos from the 2013 International Stopcyberbullying Youth Summit
Contributions from Montague Consolidated Students for the International Stop Cyberbullying Youth Summit in Charlottetown on November 9th, 2013.